Easy Architectural Details You Can Add To Your Home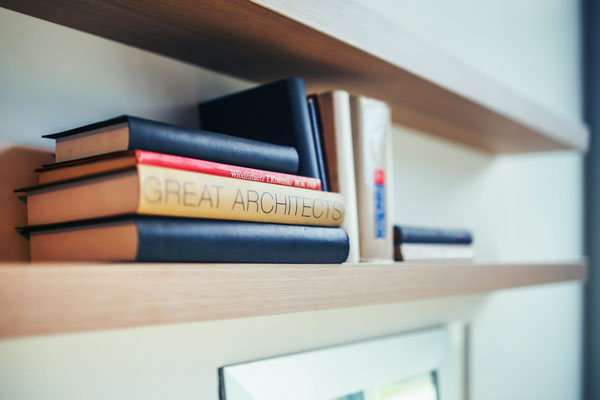 Newer homes, especially those geared toward first-time buyers, are often devoid of the level of architectural detail you would find in older or more expensive homes. If you're not a fan of the big, boring box look, you can easily add in some detail to up the charm factor. And, many of these projects can be done yourself with minimal skill and money.
"Nothing jump-starts design envy more than walking into a home with stunning architectural details like interesting ceilings, textured walls, charming stained glass and more," said Apartment Therapy. "Don't despair if you don't have any built-in architectural details in your home; there are some ideas you can try that just might give your space a similar feel as those bursting with architectural character and charm."
Arches
If you have a Spanish or Mediterranean home, or just want to make your home look and feel like one, adding an archway can help.
"Here, we transformed an ordinary rectangular cased opening into a beautiful elliptical archway featuring fluted columns, and an arched header with keystone accents," said This Old House. "We used a prefabricated 4-foot Model B poplar elliptical-archway kit from CurveMakers. On day one, we prepped the existing opening. On day two, we completed the installation and painted."
Crown molding
Crown molding can transform the look of a space, taking it from blah to beautiful. And it doesn't have to be traditional.
"The three-piece crown molding on this upper kitchen cabinet matches the classic Shaker-style motif of the door casing," said Houselogic. "It's an easy DIY project featuring a slim piece of simple trim and a plain flat board topped with a 2-inch-wide piece of fluted crown. You'll spend about $15 per cabinet."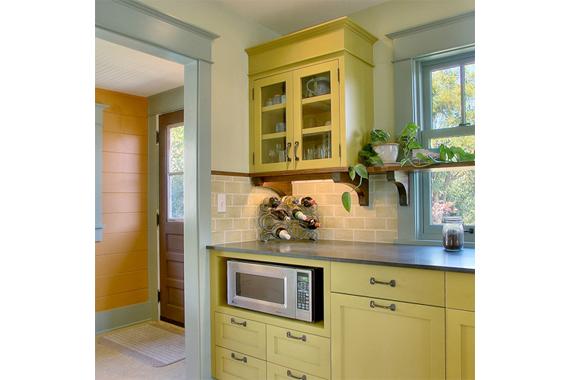 Houselogic
Ceiling Beams
"Ceiling beams can be added to any ceiling and come in a wide variety of styles, from rustic worm-holed wooden beams to sleek and modern metal designs," said HGTV. "Ceiling beams are also great places to install recessed lighting fixtures or hide wiring from a home theater system."
You can also paint your beams for a different look.
"Wood beams can give a rustic or antique looks but painted beams bring a different type of warmth and character," said Better Homes and Gardens. "Don't forget to look up when designing your space. In this kitchen, the box beams on the ceiling are a sunny shade of yellow to match the cabinets. Exposed ceiling beams make a space with a high ceiling feel more welcoming."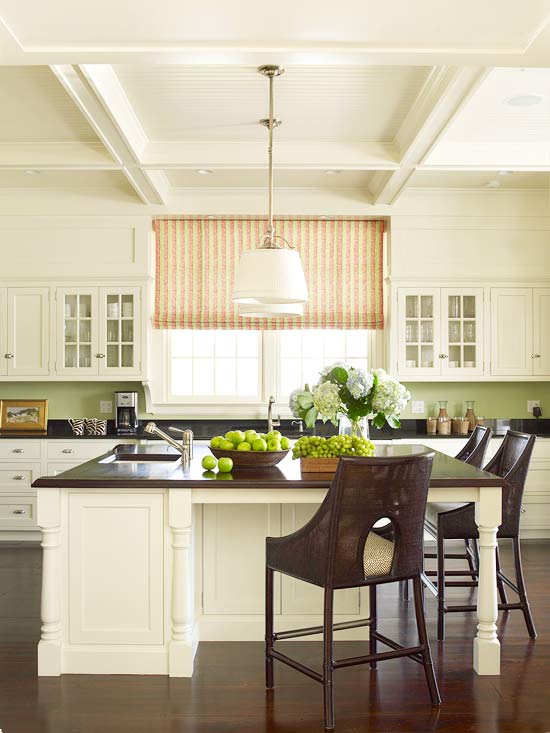 Better Homes and Gardens
Another popular option is faux wood beams that give you the look you want without the weight of real wood. You can get a step-by-step guide to installing beams yourself here. Keep in mind if you're doing it yourself, higher ceilings may require stilts or scaffolding. If you have an issue with heights or are a klutz, you may want to consider hiring a pro.
Panel moldings
Plain walls can easily be dressed up by creating panels with strips of molding. If you can miter a corner and use a paintbrush, you can create standout room like this one.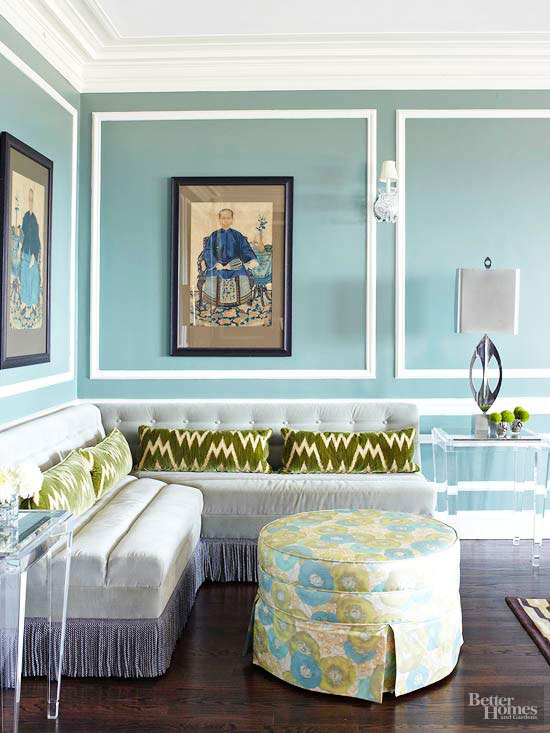 Better Homes and Gardens
Accentuating the architectural details you do have
"Think you don't have any architectural details at all? Well that's just not true! You've got windows...consider painting the window frame a bold, contrasting color," said Apartment Therapy.
Or, paint your doors or your ceiling, like this one. Who would've thought this emerald green would be so inviting.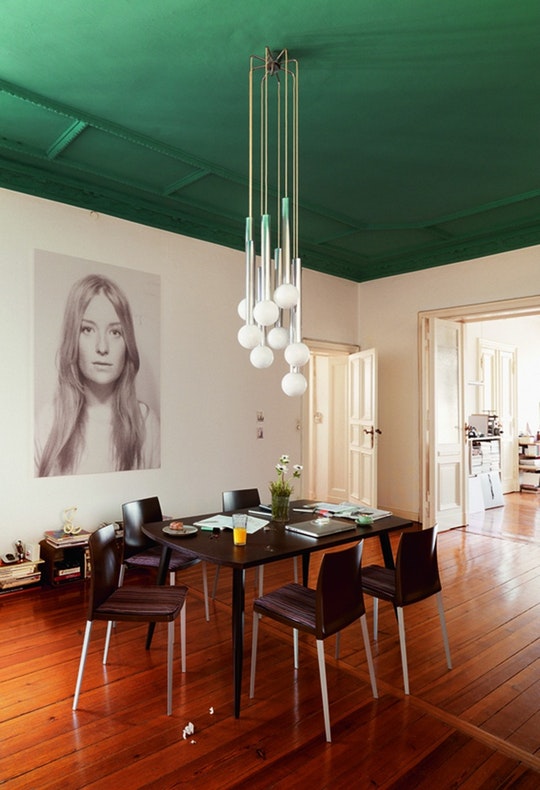 Apartment Therapy
Tin ceilings
Another way to accentuate the ceiling is by applying tin tiles. Tin ceilings date back to the "1880s as an affordable way for people to dress up a room's fifth wall," said This Old House. "Tin was not only an aesthetic upgrade, meant to emulate high-end decorative plaster, it also offered a measure of fire protection—a big concern at a time when home cooking, lighting, and heating were largely done with open flames."
Today, they're used in modern spaces as well, to add interest up top with linear metal looks, corrugated metal, and an array of stamped tiles.
Reclaimed Home
Want to estimate your home improvement costs before talking with a contractor? Claim your home for free with bluehammer to estimate costs, secure your home inventory and learn more about your home.
* THIS REPORT IS AN OPINION THAT MAY BE INACCURATE AND IS PROVIDED SOLELY AS AN INFORMATIONAL TOOL NOT DESIGNED TO PROVIDE DEFINITIVE ANSWERS. ALL ELEMENTS ARE OFFERED "AS IS" AND BLUEBOOK EXPRESSLY DISCLAIM ANY AND ALL WARRANTIES, REPRESENTATIONS, AND GUARANTEES OF ANY NATURE, EXPRESS, IMPLIED OR OTHERWISE, INCLUDING BUT NOT LIMITED TO ANY IMPLIED WARRANTIES OF MERCHANTABLITILY, NONINFRINGEMENT, TITLE, QUIET ENJOYMENT, ACCURACY, OR FITNESS FOR A PARTICULAR PURPOSE. IN NO EVENT SHALL BLUEBOOK (OR THEIR SUPPLIERS) BE LIABLE FOR ANY GENERAL, DIRECT, SPECIAL, INCIDENTAL, INDIRECT OR CONSEQUENTIAL DAMAGES OF ANY KIND, OR ANY DAMAGES WHATSOEVER (INCLUDING WITHOUT LIMITATION, THOSE RESULTING FROM USE OF THE PRODUCT, INCLUDING : (1) RELIANCE ON THE MATERIALS PRESENTED, (2) COSTS OF REPLACEMENT GOODS, (3) LOSS OF USE, DATA OR PROFITS, (4) DELAYS OR BUSINESS INTERRUPTIONS, (5) AND ANY THEORY OF LIABILITY, ARISING OUT OF OR IN CONNECTION WITH THE USE OR PERFORMANCE OF INFORMATION) WHETHER OR NOT BLUEBOOK HAS BEEN ADVISED OF THE POSSIBILITY OF SUCH DAMAGES.