13 Decorations to Pair With Beautiful Dark Walls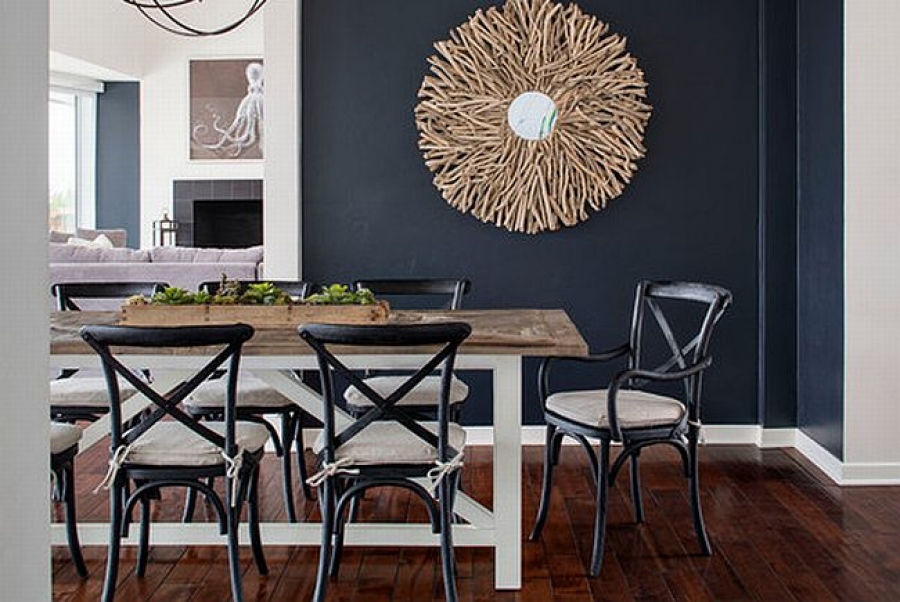 CM Natural Designs
Dark walls, from inky blue to charcoal and black, are refined and dramatic - but decorating around them without making your space feel too dark can be tricky. If you've been thinking of painting one or more walls a deep, dark hue, these ideas for color and decor pairings should help.
Natural wood. Natural wood, whether in a mirror frame, rustic tabletop or chair, helps lighten up dark walls while also emphasizing their richness. You can't go wrong with a driftwood or barn wood mirror, a farmhouse table or bentwood chairs.
Sculptural shapes. Place anything colorful or white in front of a dark wall, and your eye will be immediately drawn to its contours. Try placing a group of pottery pieces on a console or mantel. Or highlight the shape of an unusual table or chair by positioning it in front of a deep, dark wall.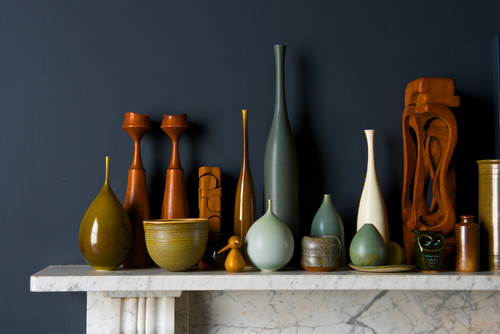 Photo by Ingrid Rasmussen Photography – Browse home design photos
Green plants. Potted plants and indoor trees look even lusher when placed in front of a dark wall. The dark color recedes into the background, creating the feeling of having a mini forest in the room instead of a few plants. Bonus style points if your plants have a sculptural shape, like the topiaries shown here.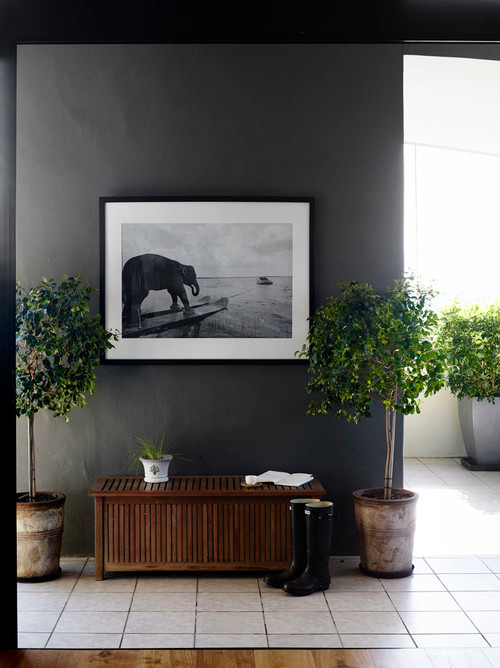 Photo by Claire Stevens Interior Design – Browse entryway photos
Large artwork. A single piece of oversize art hung on a dark wall has the most impact - even more than a salon-style grouping. The drama of a deep wall color draws the eye. This works especially well with artwork with a large white mat and a slim black frame.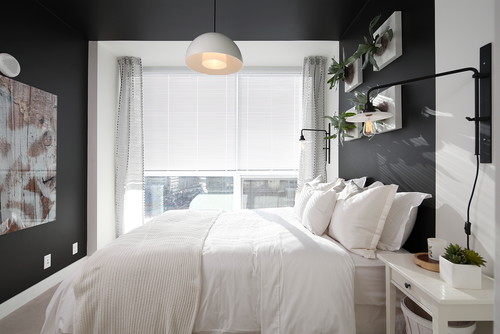 Photo by i3 design group – More bedroom photos
White. If you feel at all unsure about which direction to go in with the other elements in your dark painted room, choose white — it always works. In this bedroom a charcoal wall is set off by a grouping of wall-mounted plants on white bases, white bedding and white window treatments.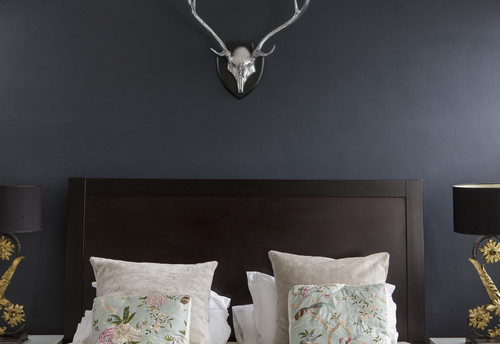 Photo by Honey Bee Interiors – More bedroom photos
Pale, watery hues. Soft and ethereal, pale aqua, mint, champagne and silvery gray bring lightness to a room with dark walls. Try these watercolor-inspired hues in bedding, a throw or pillows for an elegant feel.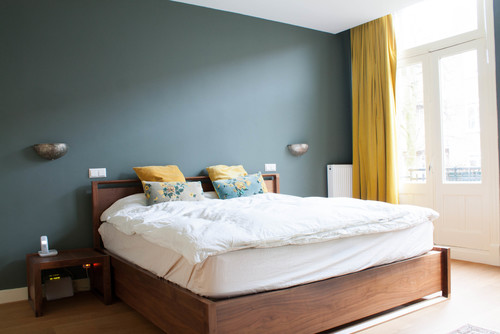 Photo by Louise de Miranda – Discover bedroom design inspiration
Rich mustard and teal. These hues complement deep blue, gray or even dark chocolate walls by bringing in the colors of fall. Just a small touch of mustard, teal or both hues will do — try a throw, pillow covers or curtains.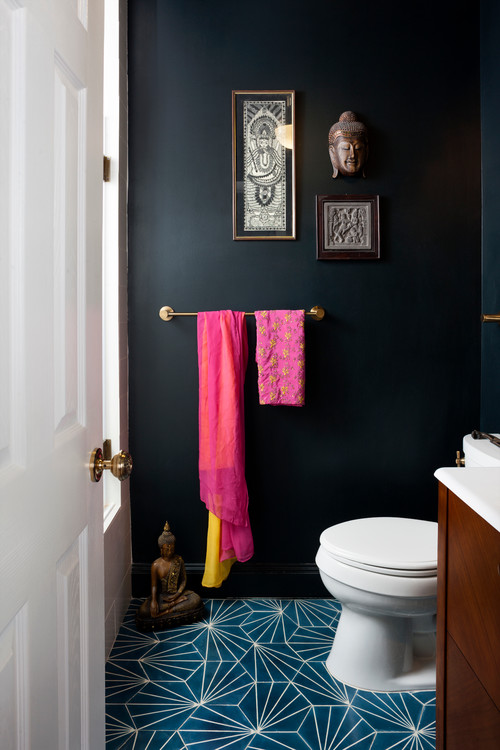 Photo by Breeze Giannasio Interiors – Browse powder room photos
Wild card pairing: brights. A flash of hot pink, neon yellow or vibrant turquoise is daring - and exciting! Brights work best with black or charcoal; adding these bold hues to a room painted another dark color (like navy or forest green) is riskier. Test out a fun color pairing with a low-cost addition like hand towels or a cluster of bright vases.
Mirrors. Dark walls in a room without much natural light run the risk of making it feel oppressive. Boost what light you have by adding mirrors - even small, decorative mirrors, like the ones shown here, can help lighten things up. If the room is very dark, add a larger mirror, either on the wall or leaning against it.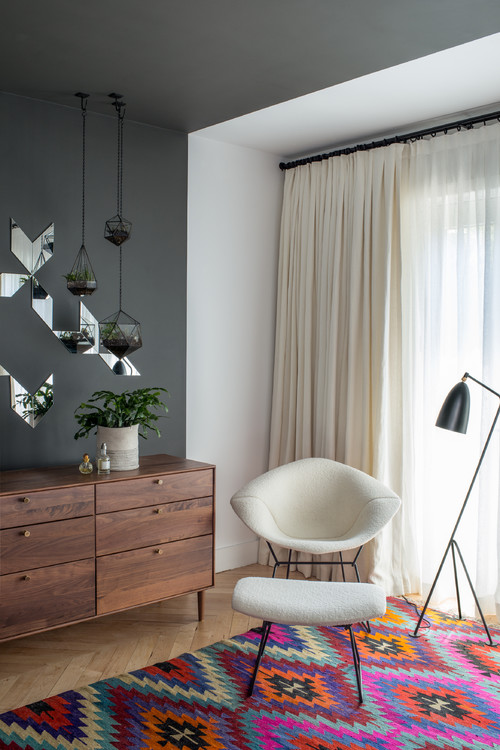 Photo by Jessica Helgerson Interior Design – Search bedroom pictures
Acrylic and glass. Like mirrors, clear materials, like acrylic and glass, can help a dark space feel a bit lighter. Swap out a wood piece, like a console, for a glass or acrylic version. Or add a large glass vase filled with greenery for a quick boost.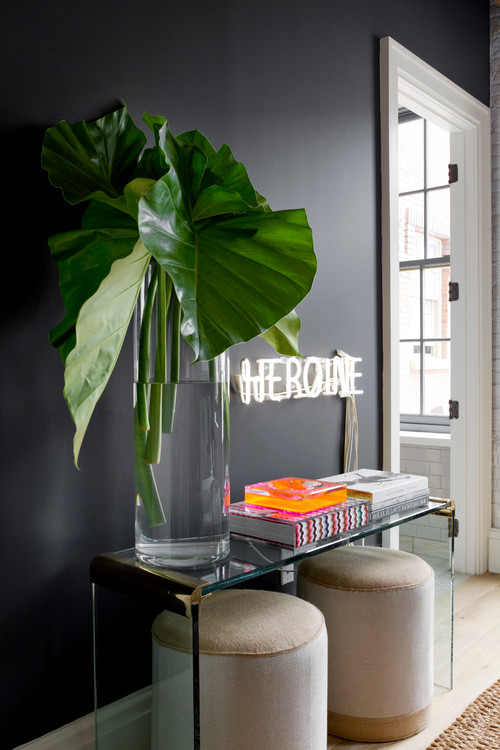 Photo by Tamara Magel Studio – More bedroom ideas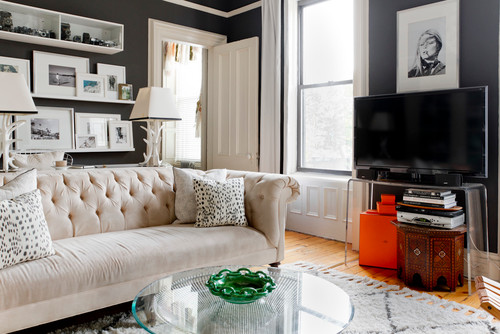 Photo by Rikki Snyder – Browse living room photos
In this living room, dark gray walls are lightened up with a glass coffee table, an acrylic TV stand, white trim and a light sofa and rug.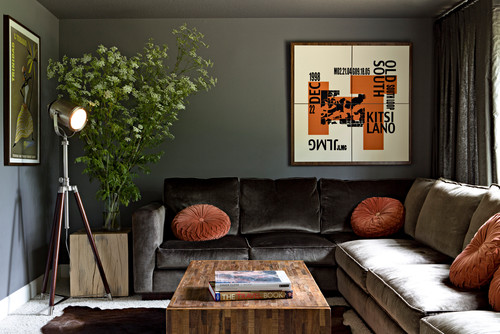 Photo by Jessica Helgerson Interior Design – Search family room design ideas
Rich texture. Dark walls call out for touchable textures, like velvet, silk, oiled wood and fluffy mohair. Consider a plush velvet sofa, velvet or silk accent pillows, or a mohair throw in a living room with dark walls.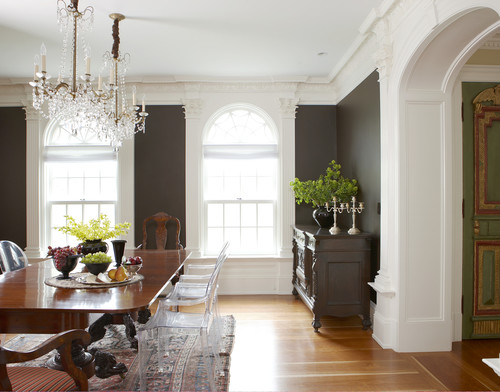 Photo by Oak Hill Architects – Search dining room pictures
Oriental rugs. Rolling out an Oriental rug is a good way to marry a daringly dark wall color with a traditional home. These carpets tend to include a range of rich, deep colors, lending them well to dark walls in just about any hue.
Antiques. As with using traditional rugs, bringing in an antique piece or two is a wonderful way to take the edge off a strong wall color. In the room shown here, dark walls look refined alongside an eclectic mix of antiques and modern Lucite chairs.
Want to estimate your home improvement costs before talking with a contractor? Claim your home for free with bluehammer to estimate costs, secure your home inventory and learn more about your home.
* THIS REPORT IS AN OPINION THAT MAY BE INACCURATE AND IS PROVIDED SOLELY AS AN INFORMATIONAL TOOL NOT DESIGNED TO PROVIDE DEFINITIVE ANSWERS. ALL ELEMENTS ARE OFFERED "AS IS" AND BLUEBOOK EXPRESSLY DISCLAIM ANY AND ALL WARRANTIES, REPRESENTATIONS, AND GUARANTEES OF ANY NATURE, EXPRESS, IMPLIED OR OTHERWISE, INCLUDING BUT NOT LIMITED TO ANY IMPLIED WARRANTIES OF MERCHANTABLITILY, NONINFRINGEMENT, TITLE, QUIET ENJOYMENT, ACCURACY, OR FITNESS FOR A PARTICULAR PURPOSE. IN NO EVENT SHALL BLUEBOOK (OR THEIR SUPPLIERS) BE LIABLE FOR ANY GENERAL, DIRECT, SPECIAL, INCIDENTAL, INDIRECT OR CONSEQUENTIAL DAMAGES OF ANY KIND, OR ANY DAMAGES WHATSOEVER (INCLUDING WITHOUT LIMITATION, THOSE RESULTING FROM USE OF THE PRODUCT, INCLUDING : (1) RELIANCE ON THE MATERIALS PRESENTED, (2) COSTS OF REPLACEMENT GOODS, (3) LOSS OF USE, DATA OR PROFITS, (4) DELAYS OR BUSINESS INTERRUPTIONS, (5) AND ANY THEORY OF LIABILITY, ARISING OUT OF OR IN CONNECTION WITH THE USE OR PERFORMANCE OF INFORMATION) WHETHER OR NOT BLUEBOOK HAS BEEN ADVISED OF THE POSSIBILITY OF SUCH DAMAGES.