9 Ways to Eliminate Congestion In The Kitchen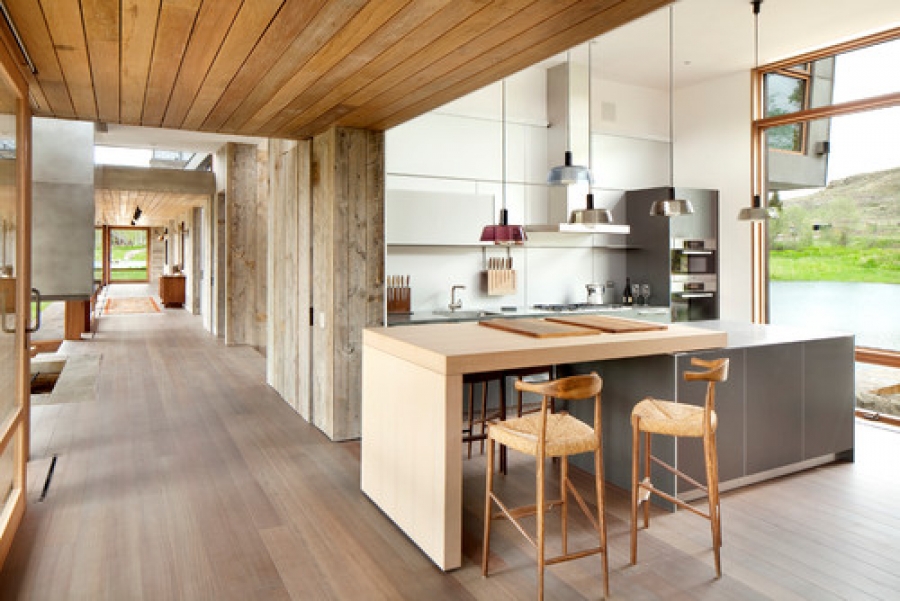 Photo by hughesumbanhowar architects
Rubbing elbows with chefs isn't always a boon. Consider circulation pathways for a kitchen that lets everyone work in comfort.
When it comes to designing your dream kitchen, it's tempting to try to squeeze in all of the latest and greatest appliances and gadgets - and enough cabinetry to contain them all. But unless you also put some thought into how you, your family and guests will circulate through the space, you could end up with a dysfunctional layout that is no fun to work in - newfangled gadgets and all. I've pulled together some tips to keep in mind when designing a kitchen to avoid traffic jams and poor flow.
1. Optimize the layout.
One of my favorite kitchen layouts is an open kitchen with an island and no closed corners. I find having an island that family and guests can easily circulate around, without getting stuck in a corner, greatly reduces kitchen traffic jams.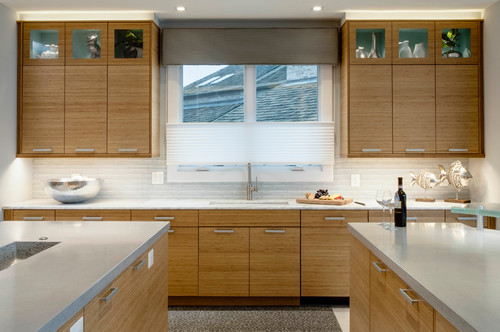 Photo by Kitchen Encounters - Search kitchen pictures
2. Provide ample walkways and aisles.
It's also important to consider your home's location. Homes in flood-prone areas may be more susceptible to water intrusion, which can be mitigated with flood insurance. Likewise, exposure to temperature extremes, both hot and cold, can have detrimental effects on your home that require additional repair and maintenance expenses.
Budget for Emergencies and Big Fixes
Make sure your kitchen walkways are at least 36 inches wide and your work aisles — those spaces in front of sinks, appliances and prep areas — are at least 42 inches wide, or 48 inches to accommodate multiple cooks.
Those with larger families or who entertain often may want to go as wide as 54 inches for work aisles. This will allow two people to easily pass behind someone working at the countertop, sink or appliance.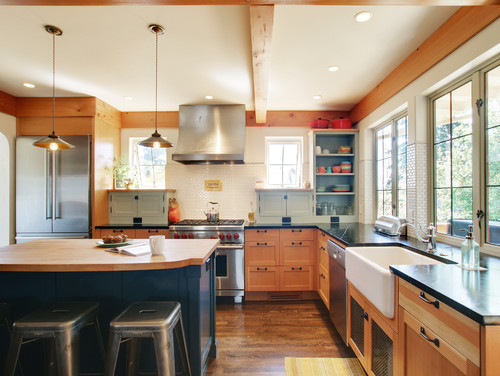 Photo by J.A.S. Design-Build – Browse kitchen ideas
3. Consider sitting room.
If you plan to have a seating area at an island or a peninsula, think about where the stools will be. Ideally you want visitors to be facing you while you are working in the kitchen, and you want to keep them out of your main work aisles, too.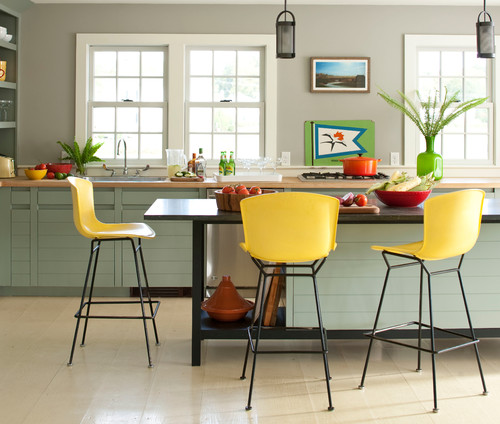 Photo by Pierce Allen – More kitchen photos
If you anticipate stools in a walkway or an aisle, allow for the extra space they'll require when occupied. You'll want at least 36 inches so someone can easily pass behind a stool when it is pulled out.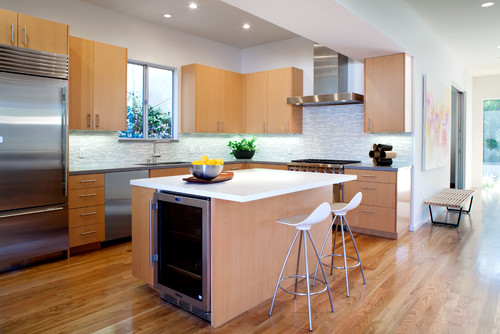 Photo by clark kitchens and construction – Discover kitchen design ideas
4. Pay attention to appliance and cabinetry clearances.
While your goal should be to arrange your appliances into efficient work zones, watch for any awkward adjacencies. Avoid placing major appliances directly opposite each other, as this can create a traffic jam if both appliances are being used simultaneously.
Also, try to keep appliances away from any corners, as corners prevent full access to the appliance, and the adjacent cabinets cannot be opened if the appliance door is also open.
This applies to your cabinets as well — make sure you can open all of your cabinet doors and drawers without their running into one another. It's tough to avoid this with corner cabinets, but all other cabinets should open freely without banging into another door or a drawer.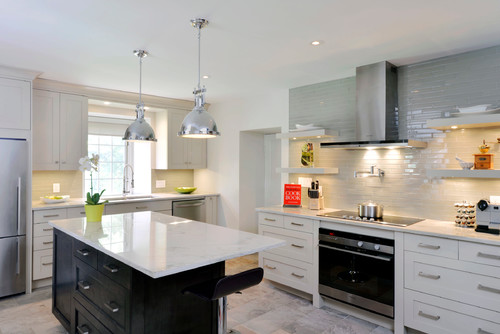 Photo by Cedarstone Homes Limited – More kitchen photos
5. Don't block kitchen entry points.
Leave enough space for someone to enter or exit even if the appliance or cabinet door or drawer is open.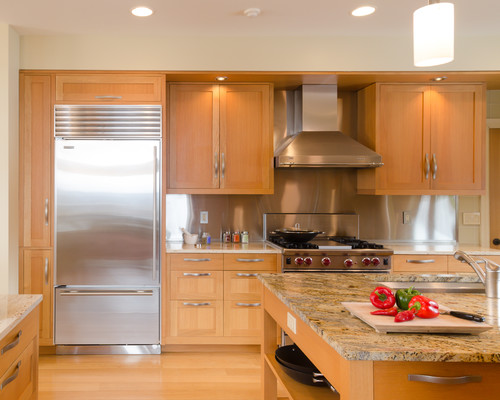 Photo by Reid Dalland Photography – More kitchen photos
6. Give your refrigerator ample space.
The area around a refrigerator tends to be a high-traffic zone, so don't crowd it in. Plus, some refrigerator doors are a whopping 36 inches wide — meaning they take up a lot of space when open. If your refrigerator is near a kitchen entry point, add a pantry cabinet to act as a buffer so that the open refrigerator door will be less likely to block someone.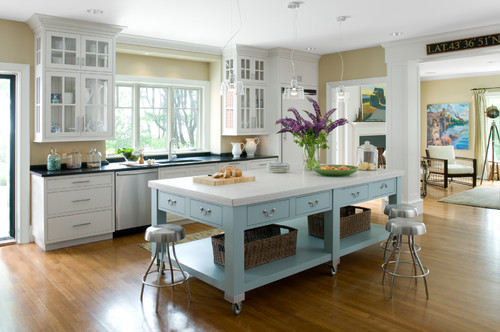 Photo by Banks Design Associates, LTD & Simply Home – Look for kitchen pictures
7. Give your sink some space, too.
Have plenty of countertop space on either side of the sink, and don't cram the sink in between other appliances, with the notable exception of the dishwasher, which is handy to have right next to the sink for cleanup. Avoid corner sinks — they are major culprits of kitchen traffic jams.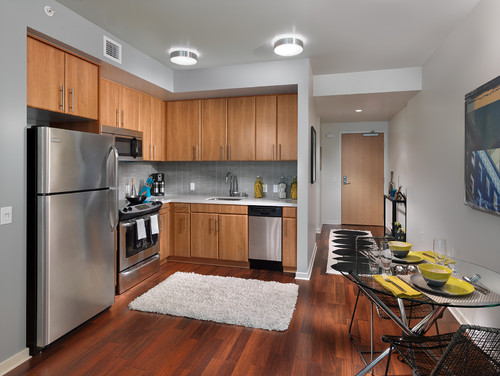 Photo by – More kitchen ideas
8. Don't fight with a small space.
As much as I love an island in the kitchen, I also value space for moving around. If you have a tight kitchen, keep it as open as possible. You can always add a movable island cart that you can tuck off to the side out of the flow of traffic when it's not in use. As tempting as it may be to cram as much cabinetry and countertop area in as possible, it's just not worth it if that makes the space awkward to use.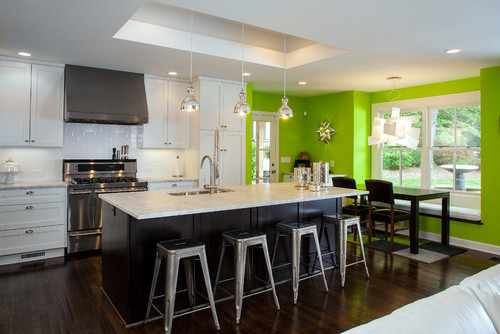 Photo by Renewal Design-Build – More kitchen ideas
9. Consult an expert.
The best piece of advice I can offer is to engage the services of a qualified and reputable designer who specializes in kitchens. If your remodeling budget is tight and you are going the DIY route, consider finding a kitchen designer willing to consult for a few hours with you for a flat fee. This investment of a few hundred dollars can help you avoid ending up with a dysfunctional kitchen layout — and will save you time, money and frustration down the road.
Want to estimate your home improvement costs before talking with a contractor? Claim your home for free with bluehammer to estimate costs, secure your home inventory and learn more about your home.
* THIS REPORT IS AN OPINION THAT MAY BE INACCURATE AND IS PROVIDED SOLELY AS AN INFORMATIONAL TOOL NOT DESIGNED TO PROVIDE DEFINITIVE ANSWERS. ALL ELEMENTS ARE OFFERED "AS IS" AND BLUEBOOK EXPRESSLY DISCLAIM ANY AND ALL WARRANTIES, REPRESENTATIONS, AND GUARANTEES OF ANY NATURE, EXPRESS, IMPLIED OR OTHERWISE, INCLUDING BUT NOT LIMITED TO ANY IMPLIED WARRANTIES OF MERCHANTABLITILY, NONINFRINGEMENT, TITLE, QUIET ENJOYMENT, ACCURACY, OR FITNESS FOR A PARTICULAR PURPOSE. IN NO EVENT SHALL BLUEBOOK (OR THEIR SUPPLIERS) BE LIABLE FOR ANY GENERAL, DIRECT, SPECIAL, INCIDENTAL, INDIRECT OR CONSEQUENTIAL DAMAGES OF ANY KIND, OR ANY DAMAGES WHATSOEVER (INCLUDING WITHOUT LIMITATION, THOSE RESULTING FROM USE OF THE PRODUCT, INCLUDING : (1) RELIANCE ON THE MATERIALS PRESENTED, (2) COSTS OF REPLACEMENT GOODS, (3) LOSS OF USE, DATA OR PROFITS, (4) DELAYS OR BUSINESS INTERRUPTIONS, (5) AND ANY THEORY OF LIABILITY, ARISING OUT OF OR IN CONNECTION WITH THE USE OR PERFORMANCE OF INFORMATION) WHETHER OR NOT BLUEBOOK HAS BEEN ADVISED OF THE POSSIBILITY OF SUCH DAMAGES.