Maintaining Your Hot Water Heater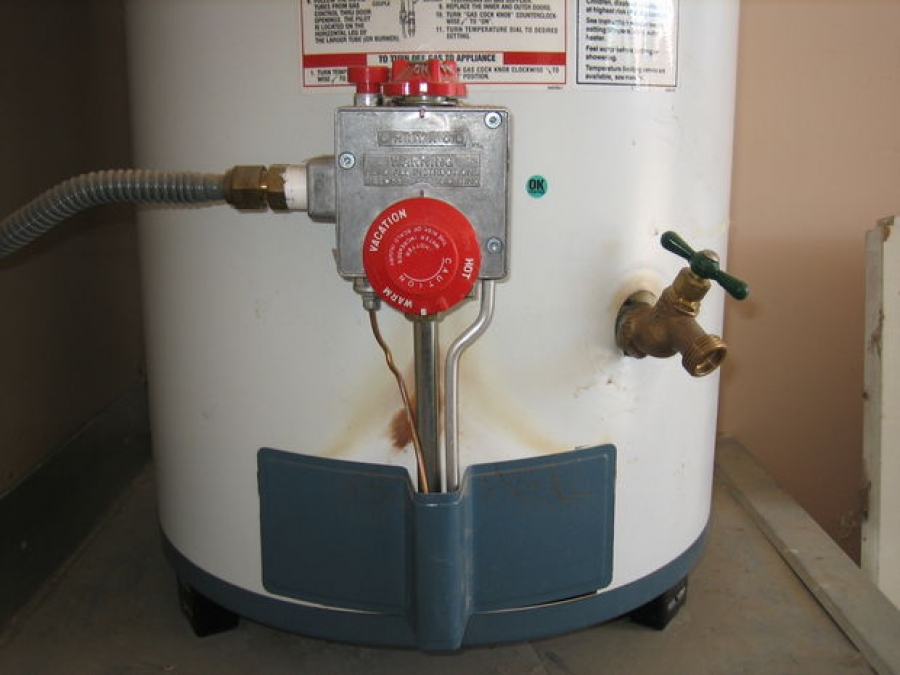 Water heaters generally have a lifespan of 8-12 years, but as with anything, the better care you take of it, the longer it will last. There are several easy "set it and forget it" tips that you can use with your water heater, like keeping the thermostat at 120 degrees, and always maintain two feet of clearance around the appliance. You can also conserve money on your gas bill by setting your heater to its "vacation" setting when leaving town. This will keep the pilot light going without heating the water.
Water heater maintenance goes well beyond just checking the thermostat, however. Here are some detailed tips for making sure your water heater lives a long, full life.
Draining & Cleaning
The bottom of the tank can contain all manner of sediment, calcium deposits, rust and bacteria. Drain a quarter of the tank a few times a year to remove this debris. Hook up a garden hose to the drain valve and run until the water is clear.
A once-a-year full cleaning should include draining the appliance completely, removing the drain valve and then scrubbing the bottom with a long, narrow brush. From there, screw on a nipple, pump 15 or 20 seconds worth of fresh water into the tank, then drain, repeating the process until the water runs clear. This is the best chemical-free way to clean a water heater.
Testing the TPR Valve
Most experts recommend testing the temperature and pressure relief (TPR) valve on your water heater every six months for optimal performance. Frequent testing can also reduce the chance of a leak resulting from mineral salt, rust and corrosion buildup, or worse: an explosion.
To perform the test, slowly raise and lower the test lever so that it lifts the brass stem. At this point, hot water should rush out of the end of the drainpipe. If you get no water, or only a trickle, be sure to replace the valve. The main thing to watch for immediately after testing the TPR valve is a leak. If you do catch a leak, operate the test level a few more times to loosen the debris that could be preventing the valve from working correctly. If the valve is functioning properly, turn down the temperature on the water heater controller and turn down the water pressure.
Examining the Sacrificial Anode
'Sacrificial anode' is the fancy name for the rod of metal located in your water heater's tank that rusts easily so that the steel won't; it takes the fall, essentially. Sacrificial anodes in water heaters are made of highly corrosive metals like magnesium and aluminum.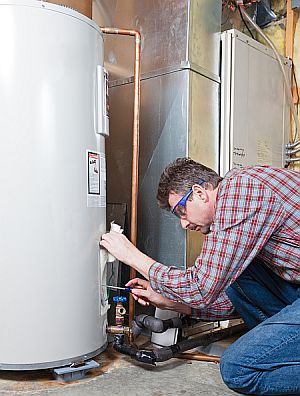 To examine your heater's sacrificial anode you must first remove it. Start by shutting off the electricity or gas to the water heater, as well as the water supply. Drain a few inches of water from the tank via the tank valve. Locate the top of the anode rod or connecting hardware - it may be under a cap about halfway to the center, or it may be under a pink top nipple. Loosen the anode very carefully with a wrench. Here, it may be necessary to apply penetrating oil to the connecting nut or threads.
One you remove the anode, inspect it carefully. If it is covered in rough metal that looks like it's been chewed, that's normal and your anode is functioning properly. If you can see six inches or more of the steel core wire inside the anode, replace it. If not, put it back in place and check back in a year.
Insulating Older Units
When you insulate the walls in your house, you increase its energy efficiency, and the same is true with your water heater. Although newer units are optimized for insulation, many older units are not, and by insulating them, you could reduce heat loss by 25-45%. If you're not sure whether or not to insulate your appliance, simply touch it; if it's warm to the touch, it's time to insulate.
Before purchasing a water heater insulating blanket kit, check with your utility to see if they offer blankets at discounted rates. Some companies even install them for little-to-no cost.
To self-install, turn off the electricity to your heater at the breaker (or for gas, switch the valve to "pilot" position). Wrap the blanket around the heater and tape it temporarily, leaving open areas for the access panel(s), valves and for gas heaters, the burner areas. Then tape the blanket permanently, and be sure to never set the thermostat above 130 degrees because the wiring could overheat.
When to Replace?
If you own a conventional storage tank water heater and it's getting into the double digits in age, it's time to replace. However if your water heater is only a few years old, there are a few things that would only take about $150-300 to repair. These things include extinguished pilot lights, burner or heating elements failing, thermostats breaking, or valves sticking. The two precursors to replacement are usually either old age or a leak. When your water heater springs a leak that usually means it's time to face the music and buy a new one.
What are some other ways you care for your water heater?
Want to estimate your home improvement costs before talking with a contractor? Claim your home for free with bluehammer to estimate costs, secure your home inventory and learn more about your home.
* THIS REPORT IS AN OPINION THAT MAY BE INACCURATE AND IS PROVIDED SOLELY AS AN INFORMATIONAL TOOL NOT DESIGNED TO PROVIDE DEFINITIVE ANSWERS. ALL ELEMENTS ARE OFFERED "AS IS" AND BLUEBOOK EXPRESSLY DISCLAIM ANY AND ALL WARRANTIES, REPRESENTATIONS, AND GUARANTEES OF ANY NATURE, EXPRESS, IMPLIED OR OTHERWISE, INCLUDING BUT NOT LIMITED TO ANY IMPLIED WARRANTIES OF MERCHANTABLITILY, NONINFRINGEMENT, TITLE, QUIET ENJOYMENT, ACCURACY, OR FITNESS FOR A PARTICULAR PURPOSE. IN NO EVENT SHALL BLUEBOOK (OR THEIR SUPPLIERS) BE LIABLE FOR ANY GENERAL, DIRECT, SPECIAL, INCIDENTAL, INDIRECT OR CONSEQUENTIAL DAMAGES OF ANY KIND, OR ANY DAMAGES WHATSOEVER (INCLUDING WITHOUT LIMITATION, THOSE RESULTING FROM USE OF THE PRODUCT, INCLUDING : (1) RELIANCE ON THE MATERIALS PRESENTED, (2) COSTS OF REPLACEMENT GOODS, (3) LOSS OF USE, DATA OR PROFITS, (4) DELAYS OR BUSINESS INTERRUPTIONS, (5) AND ANY THEORY OF LIABILITY, ARISING OUT OF OR IN CONNECTION WITH THE USE OR PERFORMANCE OF INFORMATION) WHETHER OR NOT BLUEBOOK HAS BEEN ADVISED OF THE POSSIBILITY OF SUCH DAMAGES.