Nontraditional Places to Use Pendant Lights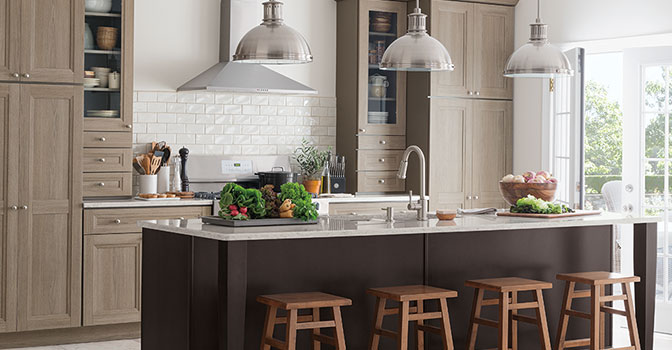 HomeDepot/
When you picture pendant lights, where do you see them in a house? Close your eyes and imagine it.
The first place you thought of was the kitchen island, right? You're not alone. For many people kitchen islands and pendant lighting go hand in hand, and while they wouldn't be wrong, I would say think bigger! Pendant lights are much more versatile than you may realize. Let's take a look around the house at some places to hang them.
Kitchen
Your sink area can sometimes be dark, boring or both. Staggered pendant lighting in this spot gives you light where you need it and a nice spot to get creative with style. Your sink and island aren't the only places in the kitchen for creative lighting. Do you have a dinette area? Coordinated pendants in these three areas bring the room where people congregate the most together seamlessly, creating cohesiveness and a beautifully well-lit space.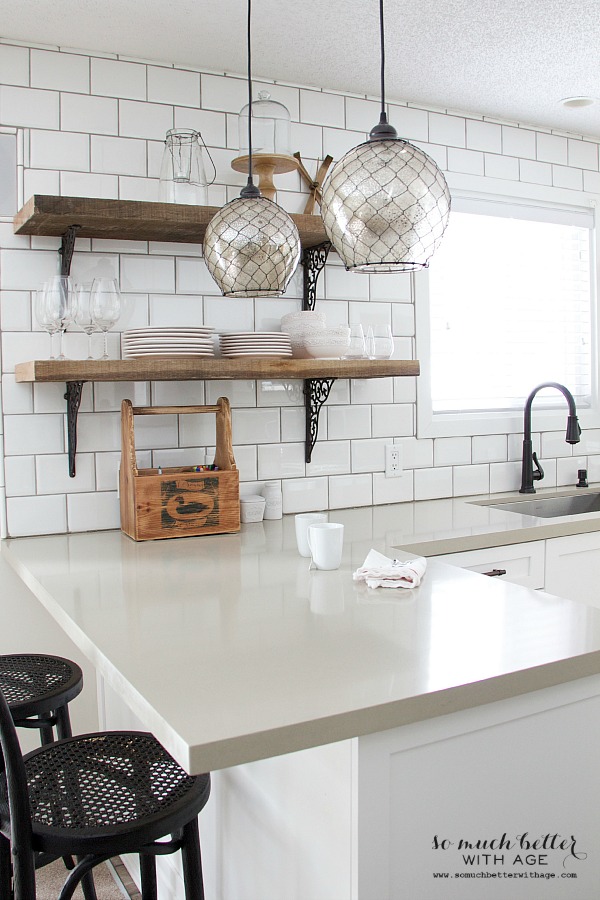 www.somuchbetterwithage.com
Dining Room
Illuminating your dining table with pendants can put a modern spin on the old centered chandelier more commonly seen in dining areas, bringing illumination closer to the table itself.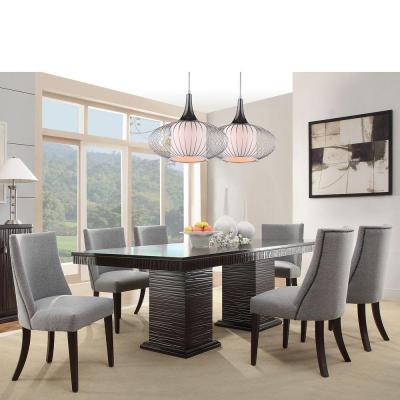 HomeDepot
Grouping the pendants and using varying lengths will shake up the more conventional bar installation over a dining room area, which can be especially dramatic when coupled with an unusually shaped table such as an oval or square. A focused, downward-facing glow from a drum-style pendant brings the table in sharper focus and ties in with the rest of the decor in the room. So, take advantage of that gorgeous light and get creative with your table. Put the fixture on a dimmer and the light becomes even more versatile.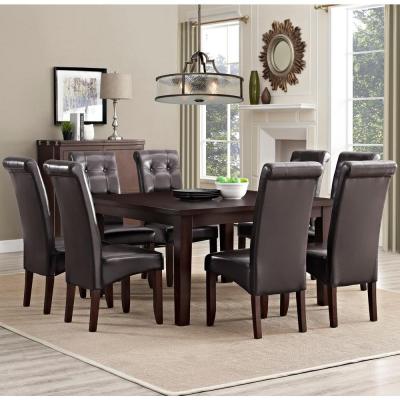 HomeDepot
Foyer
The entryway of a home is the place for a first impression. Larger, statement-piece pendant lighting fits perfectly in this area of the home. Experiment with textures, colors, size and even groupings in this type of space. Go wild!
Reading Corner/Small Desk
Curl up with a good book and some great task lighting in a reading corner or small desk area. A nice opportunity to add mini pendants, you can also give the space a cozy feel with warmer-colored, vintage-inspired light bulbs.
http://thisisourbliss.com
Bathroom
Placed directly above the mirror, pendant lighting adds a unique decorative element to the bathroom, while bringing extra, more natural lighting to the face. They're great for utility and beauty - both the bathroom's and yours.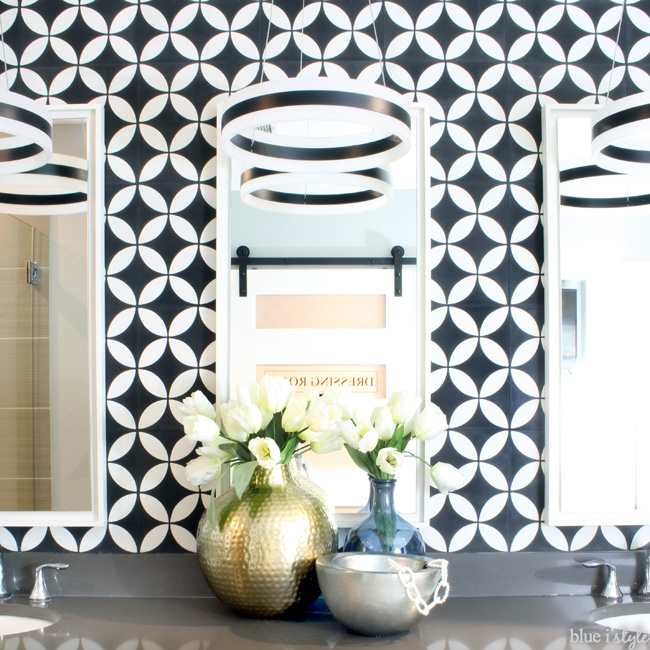 http://www.blueistyleblog.com
Hallway/Stairwell
A row of identical fixtures down a hallway is an elegant solution to lighting this space in a home. Be certain your lights are hung high enough through this high-traffic area and check to make sure the lights clear any doors that open into the hallway.
A pendant can add much-needed lighting and style to this often overlooked area. The key is to make sure there is clearance in both directions—walking up or down the stairs.
Bedroom
Hang pendants on either side of the bed instead of using table lamps on nightstands. This can be a great space-saving idea if your bedroom is small and you have limited floor space to work with. In fact, it looks wonderful even if you do have plenty of space! Colored glass or metal shades look fantastic in this setting, especially if your style leans more towards modern.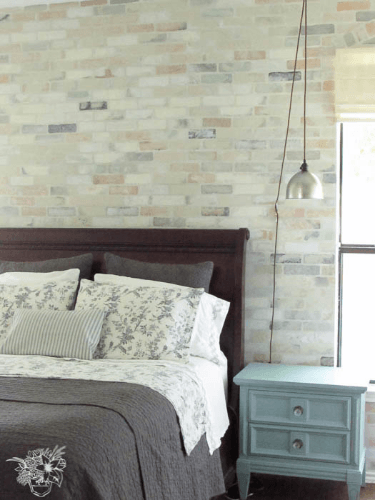 http://www.pocketofposies.com
A new trend for pendants in the bedroom is installing them at the foot of the bed. This is an out-of-the-box design idea that looks totally unique.
Area Accent Lighting
Hang pendant near shelves with artwork or photographs on them to accent the area without taking up valuable space like table lamps can. Table lamps and sconces aren't your only option for accent lighting!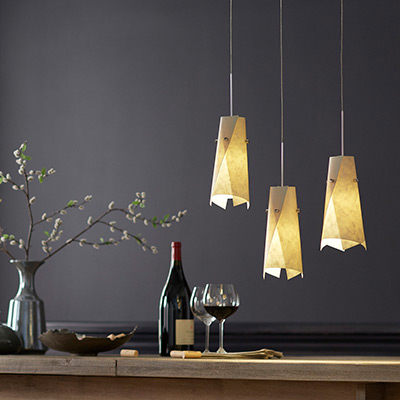 HomeDepot
Nursery/Children's Rooms
Over the rocking chair or changing table, a pendant light can give your infant's room some artistic flair. By hanging a small, low-wattage pendant over the rocking chair, you can see what you're doing for those middle-of-the-night feedings and changes, but keep the light dim enough so the baby will stay quiet and sleepy.
One of my favorite looks is a shaded pendant with cut-out shapes. The shadows it casts on the wall are magical. A pendant light with a changeable shade can grow with your little one and makes great lighting for a reading or play corner once your baby grows into a busy toddler.
Keep Height in Mind
As I mentioned above, there are a few things to keep in mind when installing pendant lights, the most important being height. No one wants to get up out of their comfy reading spot and bang their head directly into a light fixture. A good guideline is to leave a space of 18 to 24 inches above the tallest person in the house. Your guests will appreciate your attention to sparing their foreheads from pain.
For a table, the recommended height is 28 to 32 inches over the surface. You have a little leeway with this, depending on the height of the ceiling, the size of the pendant lights and your preference.
Use these tips to add a unique flair to your home. Think outside of the kitchen island pendant light box!
Want to estimate your home improvement costs before talking with a contractor? Claim your home for free with bluehammer to estimate costs, secure your home inventory and learn more about your home.
* THIS REPORT IS AN OPINION THAT MAY BE INACCURATE AND IS PROVIDED SOLELY AS AN INFORMATIONAL TOOL NOT DESIGNED TO PROVIDE DEFINITIVE ANSWERS. ALL ELEMENTS ARE OFFERED "AS IS" AND BLUEBOOK EXPRESSLY DISCLAIM ANY AND ALL WARRANTIES, REPRESENTATIONS, AND GUARANTEES OF ANY NATURE, EXPRESS, IMPLIED OR OTHERWISE, INCLUDING BUT NOT LIMITED TO ANY IMPLIED WARRANTIES OF MERCHANTABLITILY, NONINFRINGEMENT, TITLE, QUIET ENJOYMENT, ACCURACY, OR FITNESS FOR A PARTICULAR PURPOSE. IN NO EVENT SHALL BLUEBOOK (OR THEIR SUPPLIERS) BE LIABLE FOR ANY GENERAL, DIRECT, SPECIAL, INCIDENTAL, INDIRECT OR CONSEQUENTIAL DAMAGES OF ANY KIND, OR ANY DAMAGES WHATSOEVER (INCLUDING WITHOUT LIMITATION, THOSE RESULTING FROM USE OF THE PRODUCT, INCLUDING : (1) RELIANCE ON THE MATERIALS PRESENTED, (2) COSTS OF REPLACEMENT GOODS, (3) LOSS OF USE, DATA OR PROFITS, (4) DELAYS OR BUSINESS INTERRUPTIONS, (5) AND ANY THEORY OF LIABILITY, ARISING OUT OF OR IN CONNECTION WITH THE USE OR PERFORMANCE OF INFORMATION) WHETHER OR NOT BLUEBOOK HAS BEEN ADVISED OF THE POSSIBILITY OF SUCH DAMAGES.