7 Tricks Hotels Use That Can Make Your Home Look and Work Better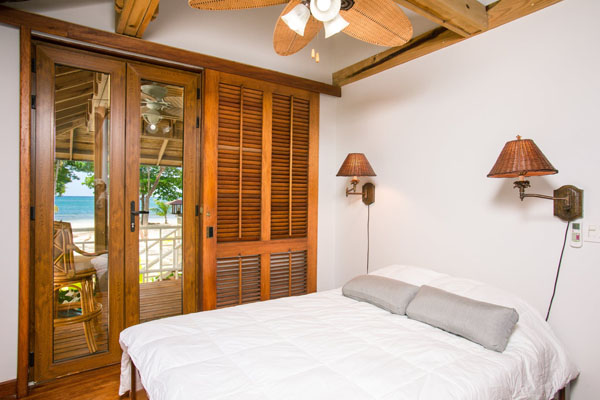 Looking to breathe some life into your house? Maybe all you need is a vacation. A hotel stay is great for a lot of reasons - as a romantic getaway, an opportunity to see the world or explore new places, a break from work or kids - but taking a good look at your surroundings can also give you great ideas for refreshing your space when you get back home.
"Whether you actually travel the world by getting on those planes, trains and automobiles or mainly explore from your sofa with an iPad in hand, you'll know that hotel designers are full of clever ideas on how to make bedrooms comfortable, visually interesting and small space smart," said Apartment Therapy.
Economy of space
For the most part, hotel rooms are small spaces that have to pack a lot of function and style into close quarters. If you think you don't have enough room to spread out or enough storage in key places in your home, maybe you just need a quick hotel stay to inspire you. Like the Arlo Hotel set to open this year in Hudson Square in New York.
Originally designed under the Tommie brand, the rooms were designed as "micro scale." Niki Leondakis, the chief executive of Commune Hotels and Resorts, told the New York Times that, building hotels in "urban markets where real estate is at a premium and hotel rooms are notoriously small" requires "an approach to design that maximizes every square foot" - an idea that can translate to home.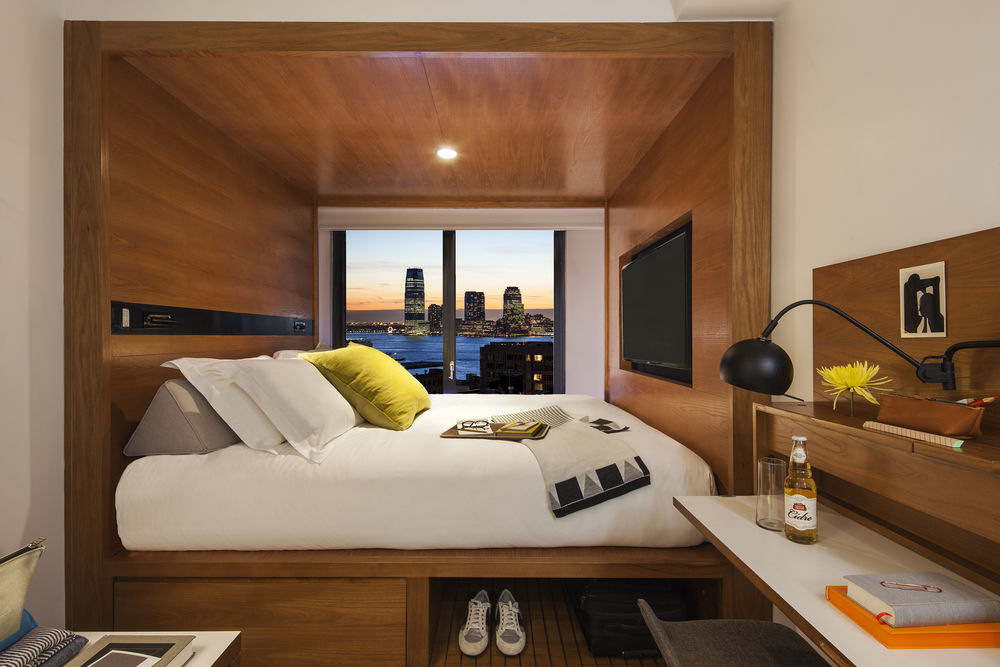 Expedia
Make it interesting
Small doesn't have to be boring. Look how this Great Gatsby-themed hotel room uses pattern and textured panels to create interest.
Luxury linens
You know how hotel room sheets are always so soft? They don't scrimp on thread count. Or the number of sheets they use. "To design your own hotel bed, "start with very clean, white, high thread count sheets," Sybil Pool, a spokesperson for Park Hyatt, told Huffington Post. "Three-hundred thread count seems to be the general rule - that's the standard at Park Hyatt Sydney, and Arizona's award-winning Miraval Resort uses 300 thread count as well. The Westin Heavenly Bed, likewise, gets its oomph from 300 thread count Egyptian cotton, along with a special twist: There are three sheets, says Hoover. That way, you're always touching a sheet. It's a really plush bed."
Huffington Post has a few more tips to make the bed at home and feel like you're in a plush resort.
A great mattress = a great night's sleep
Hotels buy great mattresses. So much so that many have become available to the general public over the years. There's the aforementioned Westin Heavenly Bed, or you can grab a Four Seasons Bed, the luxe bed you'll sleep in if you stay at the W Hotel, and a few more you can see here.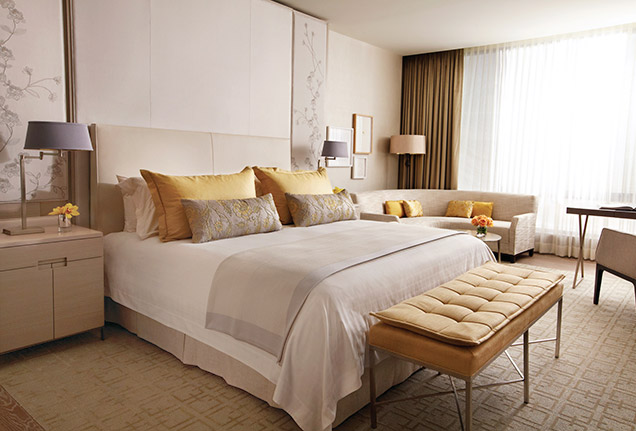 Hotel-R
If cost is an issue, think about it this way: a good night's sleep can affect more than just your coffee consumption in the morning. It may be that buying a great mattress ends up being a small price to pay for better health, clarity, and an improved mood all day long.
Accentuate the positive
This tiny, budget room in Copenhagen puts the view front and center. And even though the space is limited (REALLY limited), they still found room for a desk and chair, as well as another accent chair. The wall-mounted nightstand is a great way to include a little convenience without a lot of space and the colorful drapes bring the eye out toward the city view.
Wake Up Copenhagen
Coordination is key
You may not have such a fantastic view to emphasize, but you can create a dazzling view inside by coordinating your décor like hotel rooms do. See how the patterns complement each other, multiple textures create a layered look, and the orange accents pop off of the neutral background?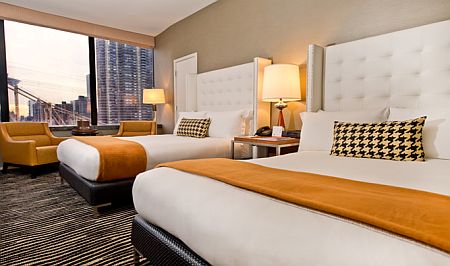 Bentley Hotel NYC
Concentrate on lighting
Good lighting can make or break a space, and this is something that good hotels do particularly well. The trick: layer it in with overhead, ambient, and task lighting, making sure to illuminate key spaces, like in this Las Vegas room.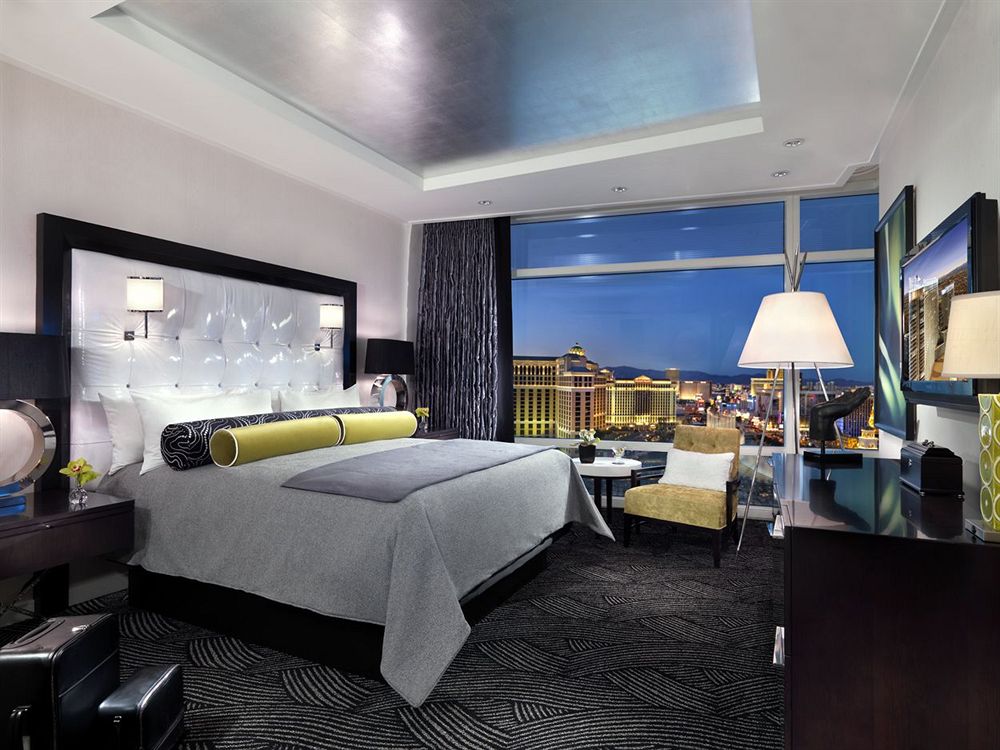 Hipmunk
Want to estimate your home improvement costs before talking with a contractor? Claim your home for free with bluehammer to estimate costs, secure your home inventory and learn more about your home.
* THIS REPORT IS AN OPINION THAT MAY BE INACCURATE AND IS PROVIDED SOLELY AS AN INFORMATIONAL TOOL NOT DESIGNED TO PROVIDE DEFINITIVE ANSWERS. ALL ELEMENTS ARE OFFERED "AS IS" AND BLUEBOOK EXPRESSLY DISCLAIM ANY AND ALL WARRANTIES, REPRESENTATIONS, AND GUARANTEES OF ANY NATURE, EXPRESS, IMPLIED OR OTHERWISE, INCLUDING BUT NOT LIMITED TO ANY IMPLIED WARRANTIES OF MERCHANTABLITILY, NONINFRINGEMENT, TITLE, QUIET ENJOYMENT, ACCURACY, OR FITNESS FOR A PARTICULAR PURPOSE. IN NO EVENT SHALL BLUEBOOK (OR THEIR SUPPLIERS) BE LIABLE FOR ANY GENERAL, DIRECT, SPECIAL, INCIDENTAL, INDIRECT OR CONSEQUENTIAL DAMAGES OF ANY KIND, OR ANY DAMAGES WHATSOEVER (INCLUDING WITHOUT LIMITATION, THOSE RESULTING FROM USE OF THE PRODUCT, INCLUDING : (1) RELIANCE ON THE MATERIALS PRESENTED, (2) COSTS OF REPLACEMENT GOODS, (3) LOSS OF USE, DATA OR PROFITS, (4) DELAYS OR BUSINESS INTERRUPTIONS, (5) AND ANY THEORY OF LIABILITY, ARISING OUT OF OR IN CONNECTION WITH THE USE OR PERFORMANCE OF INFORMATION) WHETHER OR NOT BLUEBOOK HAS BEEN ADVISED OF THE POSSIBILITY OF SUCH DAMAGES.