Ideas for Saving Energy with Your Smart Home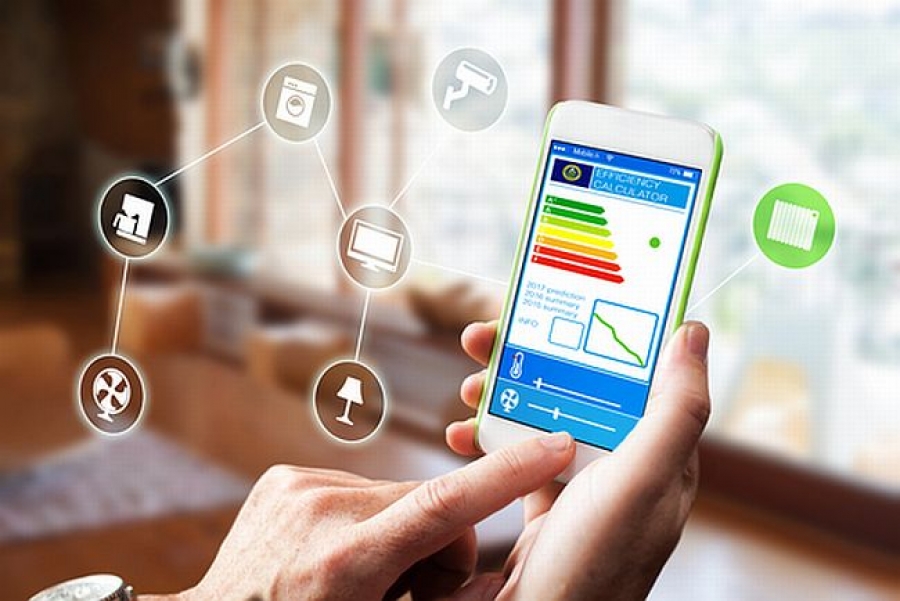 You may feel safe inside on a hot, smoggy day, but hidden dangers could be damaging your health right in your own home. In fact, according to the World Health Organization (WHO), 4.3 million people a year die from exposure to household air pollution. Poorly ventilated dwellings, smoking around the home and fine particles can all negatively impact your health.
Although you can try to improve your home's health by regularly changing filters and opening the windows to let in some fresh air, you need some smart home technology to help save energy. That will ultimately help you go green by cutting down on your energy consumption. As an added benefit, saving energy can also trim your energy bills and save some money in the process. Get started with these five smart home ideas for saving energy.
Control Your Smart Home Automation
Before you start your smart home journey, look at how you can control the automation process from the start. For example, smart appliances can help reduce your energy consumption, but you need a way to control everything from turning your lights on and off to adjusting your thermostat.
Automation can be controlled right from your smartphone or tablet. It's also best to get a smartphone that works in tandem with a reliable network for controlling your home remotely while you're on the go. For example, a phone like a Samsung Galaxy Note8 or iPhone 7 Plus can leverage apps like Wiser EMS or Nest Mobile. Just about every smart home product on the market comes with an app to manage from your smartphone or tablet so you can improve your energy efficiency whether you're at work or on vacation.
Use Smart Climate Control
You can go beyond controlling the temperature of your home and actually control its entire indoor climate. The Nest thermostat doesn't need to be programmed, and instead learns your habits and adapts the climate of your home to your life. The Nest can automatically adjust itself based on your lifestyle, the time you come and go on a regular basis, and when the season changes. You can even control the individual temperatures of specific rooms so your energy efficiency remains high.
After using Nest for a week, it can program itself and significantly reduce your energy consumption so you're saving more on your electric bill. You'll also get an alert from Nest to your smartphone app if something is wrong like the temperature is dropping low enough to make your pipes burst or the furnace is acting up.
Switch to Purifying Floors
You may already know that your home contains pollutants based on poor air quality and ventilation. But the materials your home was built with, or even its furnishings, can continuously emit toxic contaminants including formaldehyde.
Pure Genius flooring is made without solvents, volatile organic compounds or formaldehyde. It also uses light-activated and air-purifying agents made of titanium dioxide in its Titanium floor finish line. You can ultimately help purify your air, and reduce the energy needed to run fans and ventilating systems to freshen up your home. Another option for floors with an eye on energy efficiency is radiant floors with embedded tubing inside concrete to improve more efficient heating and cooling.
Update Your Appliances
You may have heard of energy-efficient appliances already, but may not have heard about smart home appliances that can save both energy and time. Smart appliances allow you to remotely program your washer or dryer to operate in the middle of the night to reduce the strain on the electrical grid. Meanwhile, an energy-efficient smart fridge like LG's smart fridge can tell you that you're out of milk and save you energy at the same time.
Want to estimate your home improvement costs before talking with a contractor? Claim your home for free with bluehammer to estimate costs, secure your home inventory and learn more about your home.
* THIS REPORT IS AN OPINION THAT MAY BE INACCURATE AND IS PROVIDED SOLELY AS AN INFORMATIONAL TOOL NOT DESIGNED TO PROVIDE DEFINITIVE ANSWERS. ALL ELEMENTS ARE OFFERED "AS IS" AND BLUEBOOK EXPRESSLY DISCLAIM ANY AND ALL WARRANTIES, REPRESENTATIONS, AND GUARANTEES OF ANY NATURE, EXPRESS, IMPLIED OR OTHERWISE, INCLUDING BUT NOT LIMITED TO ANY IMPLIED WARRANTIES OF MERCHANTABLITILY, NONINFRINGEMENT, TITLE, QUIET ENJOYMENT, ACCURACY, OR FITNESS FOR A PARTICULAR PURPOSE. IN NO EVENT SHALL BLUEBOOK (OR THEIR SUPPLIERS) BE LIABLE FOR ANY GENERAL, DIRECT, SPECIAL, INCIDENTAL, INDIRECT OR CONSEQUENTIAL DAMAGES OF ANY KIND, OR ANY DAMAGES WHATSOEVER (INCLUDING WITHOUT LIMITATION, THOSE RESULTING FROM USE OF THE PRODUCT, INCLUDING : (1) RELIANCE ON THE MATERIALS PRESENTED, (2) COSTS OF REPLACEMENT GOODS, (3) LOSS OF USE, DATA OR PROFITS, (4) DELAYS OR BUSINESS INTERRUPTIONS, (5) AND ANY THEORY OF LIABILITY, ARISING OUT OF OR IN CONNECTION WITH THE USE OR PERFORMANCE OF INFORMATION) WHETHER OR NOT BLUEBOOK HAS BEEN ADVISED OF THE POSSIBILITY OF SUCH DAMAGES.