8 Amazingly Easy Tips For A Pet-Friendly Home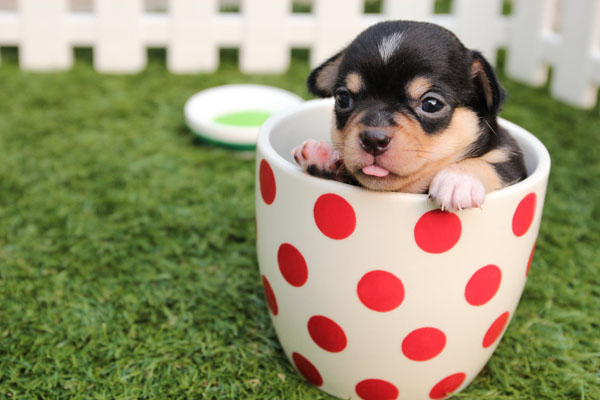 For many of us, it's an absolute pleasure to share our homes with our four-legged best friends. But there's no denying that our pets can sometimes lead to wear and tear on our homes. Yet with careful planning and some redesigned elements, we can enhance our house so that it's conducive to our pets and ourselves. If you live with a beloved pet, the following design trends and home-living tips are sure to promote a home that's comfortable for everyone -- and everything -- that lives there.
Avoid Wall-to-Wall Carpeting
If you have wall-to-wall carpeting, your guests are bound to note from the moment they enter your home (even if pets aren't present) that you live with animals. In spite of routine cleaning, carpeting harbors pet odors and allergens. If you can't live without carpeting, opt for a low pile that's easy to clean. You might also consider adding easy-to-clean area rugs in your home -- just be sure to add slip proofing beneath these rugs to keep them securely in place.
Durable Flooring
A hallmark of a pet-friendly home is durable flooring. While hardwood and eco-friendly bamboo are durable, they may show wear and tear (i.e. scratching) sooner than a concrete or tile floor will. Your pets likely spend considerable time on the floor, so it makes sense to install flooring that is ideal for them. You may also want to consider other pet-friendly types of flooring like vinyl and linoleum. Be sure to research your flooring in order to choose the best type for your home and your particular pet.
Install a Dog Door
Many homeowners love the convenience of a dog door, which allows dogs and even cats to let themselves in and out of the home as they need. With a dog door, you don't have to rush home from work to ensure that your dog gets out on time and you don't have to worry about forgetting to let your pets in and out. You can also opt to install a custom door that includes pet-friendly access within its design.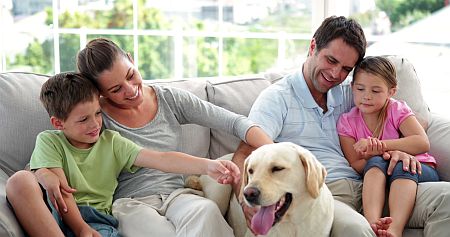 Stain-Resistant Fabrics
Even if you have strict rules about no pets on the furniture, there comes a time when your pet is bound to leave a mess on your fabric. By choosing stain-resistant materials, you can take the headache out of pet messes. Similarly, easy-to-clean fabrics like microfiber will also hold up to pet wear and tear better than many other types of fabric. Leather is quite easy to clean, but if you have large dogs you'll need to take extra care with their nails to ensure that your leather upholstery isn't punctured or scratched.
Built-In Feeding Station
Do you ever wish you could fill your pet's water bowl in place? When you create a custom feeding station, you can install a faucet that allows you to fill up your dog or cat's water bowl right in its place. You can also install attractive cabinetry where you can store your pet's food and treats. This type of station is easy to integrate into a kitchen, mud room, laundry room or wherever you choose to feed your pets.
Designer Bed
Although many people don't mind snuggling with their pets, others may dislike the wear and tear four-legged creatures impart on bedding. If you don't allow your pets to bed with you, you can still enhance their comfort by getting them a deluxe bed that brims with comfort. With so many styles of pet beds on the market today, you'll be able to choose a size and style that is perfect for your four-legged pal.
Outdoor Hardscaping
Pet urine can lead to unsightly patches on your lawn. To keep your landscape looking its best, consider installing an outdoor area behind your home where pets can take care of their basic needs. You can also install hardscaping, which makes cleaning up after pets a breeze. Concrete is not only effective as a hardscaping material, it's also an affordable option.
Pet Apparatus
To keep your pets from becoming bored when you're working or busy with household chores, add a pet apparatus to your home. Cats love to climb and look out of windows, while dogs often enjoy dog housing where they can relax and claim a space of their own. To ensure that your house is truly pet-friendly, make sure your dogs and cats have special gear or toys designed just for them.
Conclusion
Naturally, you'll want to make any changes to your home with your pets in mind. With these general tips, you'll be able to create a pet-friendly environment that you'll love as much as they will.
Want to estimate your home improvement costs before talking with a contractor? Claim your home for free with bluehammer to estimate costs, secure your home inventory and learn more about your home.
* THIS REPORT IS AN OPINION THAT MAY BE INACCURATE AND IS PROVIDED SOLELY AS AN INFORMATIONAL TOOL NOT DESIGNED TO PROVIDE DEFINITIVE ANSWERS. ALL ELEMENTS ARE OFFERED "AS IS" AND BLUEBOOK EXPRESSLY DISCLAIM ANY AND ALL WARRANTIES, REPRESENTATIONS, AND GUARANTEES OF ANY NATURE, EXPRESS, IMPLIED OR OTHERWISE, INCLUDING BUT NOT LIMITED TO ANY IMPLIED WARRANTIES OF MERCHANTABLITILY, NONINFRINGEMENT, TITLE, QUIET ENJOYMENT, ACCURACY, OR FITNESS FOR A PARTICULAR PURPOSE. IN NO EVENT SHALL BLUEBOOK (OR THEIR SUPPLIERS) BE LIABLE FOR ANY GENERAL, DIRECT, SPECIAL, INCIDENTAL, INDIRECT OR CONSEQUENTIAL DAMAGES OF ANY KIND, OR ANY DAMAGES WHATSOEVER (INCLUDING WITHOUT LIMITATION, THOSE RESULTING FROM USE OF THE PRODUCT, INCLUDING : (1) RELIANCE ON THE MATERIALS PRESENTED, (2) COSTS OF REPLACEMENT GOODS, (3) LOSS OF USE, DATA OR PROFITS, (4) DELAYS OR BUSINESS INTERRUPTIONS, (5) AND ANY THEORY OF LIABILITY, ARISING OUT OF OR IN CONNECTION WITH THE USE OR PERFORMANCE OF INFORMATION) WHETHER OR NOT BLUEBOOK HAS BEEN ADVISED OF THE POSSIBILITY OF SUCH DAMAGES.