Estimate Home Improvement Costs Using bluehammer's™ Home Improvement Calculator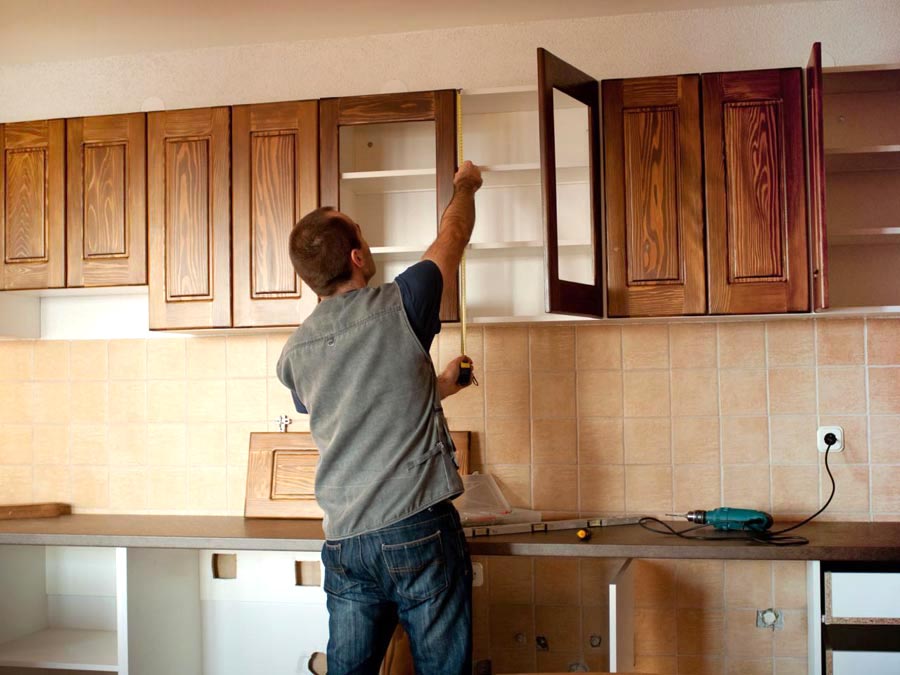 Add a new skill to your offering by providing estimated home improvement costs to your clients.
The bluehammer home improvement calculator allows you to provide estimated costs for home improvement and repair projects for your clients. It's easy to use and can be accessed on all your connected devices. You can use it in a variety of ways to benefit your clients and gain business.
Showing a property to potential buyers
Set up a property you are showing. As you walk the property, use the home improvement calculator to provide cost estimates for kitchen and bathroom remodels or for any repairs that may be needed. Provide them an overall potential cost of ownership and use the information with your expertise to help them negotiate the best price.
Offer it as a service to potential sellers
Offer a free bluehammer package in your email or newsletter that includes a property repair estimate package. Walk through the house using the Home Improvement Calculator and point out where a prospective buyer may be looking to repair or renovate and provide an estimated cost.
Be prepared on new listings
As you walk through a new listing, look for potential upgrades or repairs that buyers will want completed. Have estimated costs ready to provide when the questions arise.
How to use the home improvement calculator
As with all bluehammer property tools, you first must create the property for which you wish to use the tools.
Log in and navigate to the "Property Tools for Your Clients" section

Click on the "Property Tools for Your Clients" link in the left hand menu of your dashboard

Click the "Set Up A New Property" button

This will bring you to the property address screen. Enter the property address and bed/bath count and click "Let's Do This".

You now are in that home's dashboard

Click the "Create New Estimate" button to begin. A window will pop asking you to give your project a name. Type in a name and click "Let's Go".

Search and define your home improvement project

You have two different ways to search and add items to your estimate. You can search by popular projects or by individual actions.




Popular projects are common home improvement projects that contain all the individual action items (and costs) needed to complete the project. Individual actions are the components that make up a project. For example: A project about replacing carpet will include all the individual components like removing the furniture, removing the existing carpet and tack strips and then installing the new carpet. An individual action is only one of those steps, so if you are looking for costs to just remove the carpet, you would search by individual action.

Choose your quality

After you select your project or action item, you may be asked to select the quality of material to use. This greatly affects cost. You will have the option of selecting either economy, good, better, best or designer qualities. To better understand what each means, we have included a chart that can be accessed by clicking the "learn about qualities" link.

Choose the area(s) affected

If for instance, you plan on replacing the carpet in mutliple areas, select all that apply. If you don't see an area you need you can create one by clicking the "create area" button. When all areas are selected, click "add to estimate"

Your action items and costs now show

Your areas and action items now display. You can use the area calculator to help you with any quantities you may need. Just click on the "area measurements / options" link for that area and follow the instructions. You can also edit each item individually by clicking the edit link next to each item. This includes changing the quality if applicable, adding notes or photos, or deleting the item.

Add more items or view the report

You can repeat the process to add more items to your project estimate. You can view the report and get your totals by clicking the "View total estimated project costs" button at any time. When you view the report, you have the option of saving that report as a PDF, printing it or copying a link to that report online to give to your client.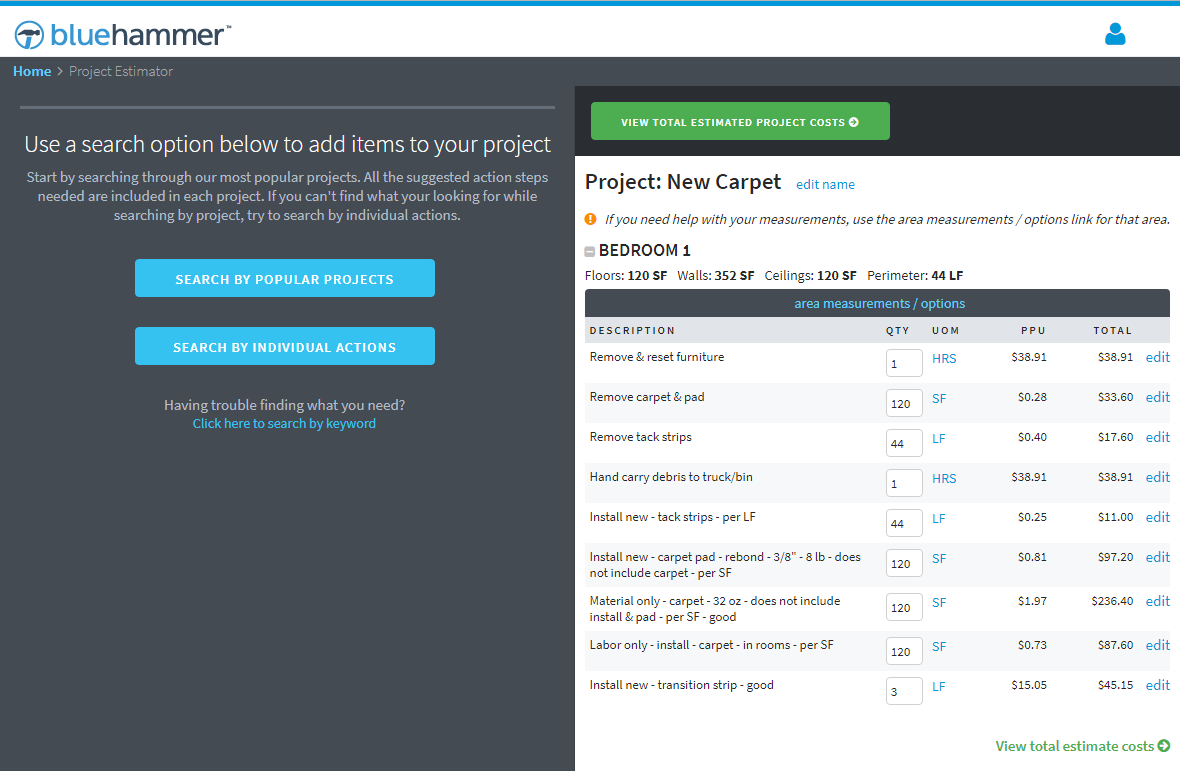 Home Improvement Calculator
We'll help you every step of the way
When you subscribe to bluehammer, you are provided with informational articles and walk through's about how to best use bluehammer's tools to grow your client base. Click to learn more and get started
Looking to connect with homeowners, increase your engagement and grow your real estate business? Learn how with bluehammer for Real Estate Agents.
* THIS REPORT IS AN OPINION THAT MAY BE INACCURATE AND IS PROVIDED SOLELY AS AN INFORMATIONAL TOOL NOT DESIGNED TO PROVIDE DEFINITIVE ANSWERS. ALL ELEMENTS ARE OFFERED "AS IS" AND BLUEBOOK EXPRESSLY DISCLAIM ANY AND ALL WARRANTIES, REPRESENTATIONS, AND GUARANTEES OF ANY NATURE, EXPRESS, IMPLIED OR OTHERWISE, INCLUDING BUT NOT LIMITED TO ANY IMPLIED WARRANTIES OF MERCHANTABLITILY, NONINFRINGEMENT, TITLE, QUIET ENJOYMENT, ACCURACY, OR FITNESS FOR A PARTICULAR PURPOSE. IN NO EVENT SHALL BLUEBOOK (OR THEIR SUPPLIERS) BE LIABLE FOR ANY GENERAL, DIRECT, SPECIAL, INCIDENTAL, INDIRECT OR CONSEQUENTIAL DAMAGES OF ANY KIND, OR ANY DAMAGES WHATSOEVER (INCLUDING WITHOUT LIMITATION, THOSE RESULTING FROM USE OF THE PRODUCT, INCLUDING : (1) RELIANCE ON THE MATERIALS PRESENTED, (2) COSTS OF REPLACEMENT GOODS, (3) LOSS OF USE, DATA OR PROFITS, (4) DELAYS OR BUSINESS INTERRUPTIONS, (5) AND ANY THEORY OF LIABILITY, ARISING OUT OF OR IN CONNECTION WITH THE USE OR PERFORMANCE OF INFORMATION) WHETHER OR NOT BLUEBOOK HAS BEEN ADVISED OF THE POSSIBILITY OF SUCH DAMAGES.