Using bluehammer™ To Gain New Clients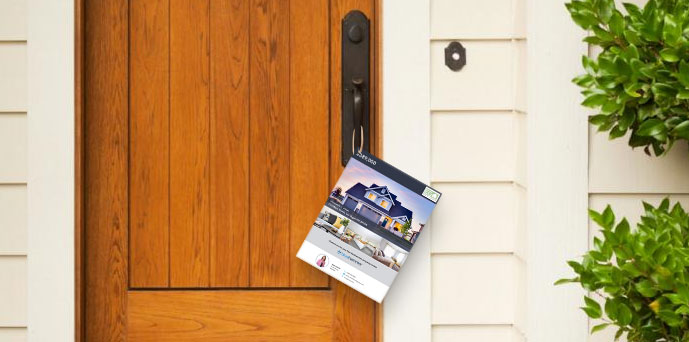 bluehammer™ arms Real Estate Agents with effective tools and content they can use to engage homeowners.
bluehammer™ provides you added skills and opportunities for prospecting and connecting with new clients. You can engage and connect with homeowners by offering added services that they value. Learn more below on the different ways you can use bluehammer to build relationships.
Add one of the following calls to action to your existing marketing to encourage a response and connect with a homeowner
"Do you have enough homeowner's insurance? Contact me for a free bluehammer insurance review"

You have the ability to run the homeowners insurance report to give them an idea of what it will cost to rebuild their home. Show them the report and how to use the home inventory tool and then transfer the bluehammer property to them to use. Once transferred, bluehammer automatically keeps you in front of that homeowner all year.

"Do you have home improvement plans or repairs? Contact me for a free bluehammer cost estimate"

Use the home improvement calculator to estimate projects and repairs they are planning to their home. Once again, transfer that property to them so they can use the tool themselves. Provide them value and stay in the forefront of their mind.

"Contact me for your free bluehammer property review"

Put it all together. As a bluehammer subscriber, you have the ability to create properties and use the home improvement calculator, homeowner insurance report and your expertise to create a snapshot of their property. Once complete, you can transfer the bluehammer property to your new client.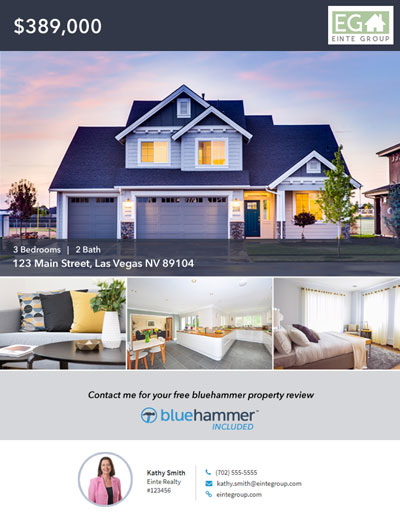 Sample marketing flyer with bluehammer call to action
Pre-run estimates for common projects on your listings
Add a "bluehammer included icon" and "Ask me how much a kitchen and bath remodel will cost for this property" text to your listings. Get potential clients excited about the possibilities available while they look for a new home.
Combine bluehammer social media articles with a call to action
Log in and search for a project article, add a call to action to contact you for an estimated cost for this project and post it to your social media or email list. When a user clicks to read the article they see your ad allowing them to both learn about a specific project and have a person to contact regarding a cost estimate.
We'll help you every step of the way
When you subscribe to bluehammer, you are provided with informational articles and walk through's about how to best use bluehammer's tools to grow your client base. Click to learn more and get started
Looking to connect with homeowners, increase your engagement and grow your real estate business? Learn how with bluehammer for Real Estate Agents.
* THIS REPORT IS AN OPINION THAT MAY BE INACCURATE AND IS PROVIDED SOLELY AS AN INFORMATIONAL TOOL NOT DESIGNED TO PROVIDE DEFINITIVE ANSWERS. ALL ELEMENTS ARE OFFERED "AS IS" AND BLUEBOOK EXPRESSLY DISCLAIM ANY AND ALL WARRANTIES, REPRESENTATIONS, AND GUARANTEES OF ANY NATURE, EXPRESS, IMPLIED OR OTHERWISE, INCLUDING BUT NOT LIMITED TO ANY IMPLIED WARRANTIES OF MERCHANTABLITILY, NONINFRINGEMENT, TITLE, QUIET ENJOYMENT, ACCURACY, OR FITNESS FOR A PARTICULAR PURPOSE. IN NO EVENT SHALL BLUEBOOK (OR THEIR SUPPLIERS) BE LIABLE FOR ANY GENERAL, DIRECT, SPECIAL, INCIDENTAL, INDIRECT OR CONSEQUENTIAL DAMAGES OF ANY KIND, OR ANY DAMAGES WHATSOEVER (INCLUDING WITHOUT LIMITATION, THOSE RESULTING FROM USE OF THE PRODUCT, INCLUDING : (1) RELIANCE ON THE MATERIALS PRESENTED, (2) COSTS OF REPLACEMENT GOODS, (3) LOSS OF USE, DATA OR PROFITS, (4) DELAYS OR BUSINESS INTERRUPTIONS, (5) AND ANY THEORY OF LIABILITY, ARISING OUT OF OR IN CONNECTION WITH THE USE OR PERFORMANCE OF INFORMATION) WHETHER OR NOT BLUEBOOK HAS BEEN ADVISED OF THE POSSIBILITY OF SUCH DAMAGES.