Home Insurance 101: The Fundamentals of Home Quality

Buying a home represents one of the biggest purchases that an individual can make in his or her lifetime. As such, the decision should not be taken lightly, and you'll want to review many factors as you search for your dream residence.
The U.S. Census Bureau reported 501,000 homes were sold in the United States last year, up from 437,000 homes one year earlier. Furthermore, the U.S. economy continues to rebound from the Great Recession. This means the number of homebuyers may increase nationwide over the next few years, leading to increased competition among homebuyers.
Ultimately, an informed homebuyer is better equipped to make the right decision about a residence and whether this house will fulfill his or her personal needs. With the right information at his or her disposal, a homebuyer should have no trouble insuring his or her residence as well.
Home insurance likely is a requirement if you want to obtain a mortgage. However, there are numerous factors that may impact your ability to receive a favorable premium for your home insurance, along with your ability to insure your house altogether.
The key factors that may impact your home insurance premium and/or your ability to insure your house include:
1. A Home's Location
Location represents an important consideration as you explore the housing market and will affect your home insurance premium.
For example, home insurance premiums will vary for homeowners in Florida and California, respectively, due to the fact the climates in these states create different risks for homeowners.
Sperling's Best Places ranks several Florida regions among the most likely to be affected by a major hurricane in the near future. Comparatively, wildfires are problematic in California, and the State of California reported these incidents have impacted more than 150,000 acres of land in the Golden State thus far in 2016.
Home insurance safeguards your house, personal property and more. Therefore, if you live in a region that is susceptible to hurricanes, wildfires or other risks, you may be forced to pay a higher premium to insure your house—or you may need to conduct a broad search to find an insurer for your residence.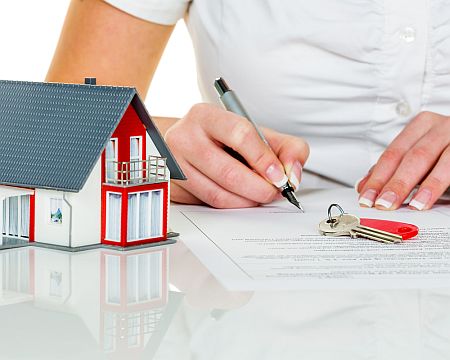 2. Construction of Your Home
How your home is built might affect your home insurance premium. In fact, if your house consists of older materials, you may need to update your residence so you can insure it.
In addition, many factors may impact the home insurance premium for an older residence, including:
Outdated Wiring - Knob-and-tube wiring may be more exposed than wiring that is used in modern homes, creating additional fire dangers.
Galvanized Steel Pipes for Plumbing - Older homes often feature galvanized steel pipes that could rust, which may lead to leaks and flooding.
Storm-Sensitive Roof - An older roof will consist of older materials, which may make the roof more susceptible to hail, wind or other damage.
Take a close look at a residence's construction before you make your purchase decision. By doing so, you'll be able to determine whether home updates are needed, along with how the home's construction could affect your home insurance premium and/or your ability to insure the residence.
3. Home Replacement Costs
If you buy a home today, the value of your residence may change over the next month, year or decade.
The real estate market fluctuates constantly, and as such, what your home is worth now is likely to change soon. As a result, using the price that you paid for your house to determine the costs to replace your residence is insufficient.
Instead, you'll need a professional home appraisal to determine what it would cost to replace your residence. After this appraisal is completed, you'll be able to determine the proper home replacement costs and insure your house accordingly.
4. Flood Insurance
Believe it or not, a standard home insurance policy does not cover the damage associated with floods. On the other hand, you'll need flood insurance to supplement your home insurance if your house is located in a flood zone.
Also, it is important to note that your home does not necessarily need to be located in a flood zone to suffer damage due to a flood.
Even a few inches of water can cause long-lasting mold problems and flood damage in a home. If you purchase flood insurance - even if you're outside of a flood zone - you'll be protected if flooding occurs.
5. Potential Liability Hazards
Your home may have potential liability hazards that can raise your home insurance premium or make it difficult for you to insure your residence.
Some of the most common potential liability hazards include:
Animals - If you own a large dog or other types of animals, you'll need to account for each pet when you evaluate your home insurance options.
Swimming Pool - A swimming pool is a must for many homebuyers, but a pool could impact your home insurance premium.
Trampoline - Jumping on a trampoline offers a fun, exciting activity for kids and adults alike, but a trampoline may require you to pay more for your home insurance premium.
Consider your home insurance options as you search for the perfect residence, and you may be able to improve your chances of finding the ideal house in no time at all.
Want to estimate your home improvement costs before talking with a contractor? Claim your home for free with bluehammer to estimate costs, secure your home inventory and learn more about your home.
* THIS REPORT IS AN OPINION THAT MAY BE INACCURATE AND IS PROVIDED SOLELY AS AN INFORMATIONAL TOOL NOT DESIGNED TO PROVIDE DEFINITIVE ANSWERS. ALL ELEMENTS ARE OFFERED "AS IS" AND BLUEBOOK EXPRESSLY DISCLAIM ANY AND ALL WARRANTIES, REPRESENTATIONS, AND GUARANTEES OF ANY NATURE, EXPRESS, IMPLIED OR OTHERWISE, INCLUDING BUT NOT LIMITED TO ANY IMPLIED WARRANTIES OF MERCHANTABLITILY, NONINFRINGEMENT, TITLE, QUIET ENJOYMENT, ACCURACY, OR FITNESS FOR A PARTICULAR PURPOSE. IN NO EVENT SHALL BLUEBOOK (OR THEIR SUPPLIERS) BE LIABLE FOR ANY GENERAL, DIRECT, SPECIAL, INCIDENTAL, INDIRECT OR CONSEQUENTIAL DAMAGES OF ANY KIND, OR ANY DAMAGES WHATSOEVER (INCLUDING WITHOUT LIMITATION, THOSE RESULTING FROM USE OF THE PRODUCT, INCLUDING : (1) RELIANCE ON THE MATERIALS PRESENTED, (2) COSTS OF REPLACEMENT GOODS, (3) LOSS OF USE, DATA OR PROFITS, (4) DELAYS OR BUSINESS INTERRUPTIONS, (5) AND ANY THEORY OF LIABILITY, ARISING OUT OF OR IN CONNECTION WITH THE USE OR PERFORMANCE OF INFORMATION) WHETHER OR NOT BLUEBOOK HAS BEEN ADVISED OF THE POSSIBILITY OF SUCH DAMAGES.